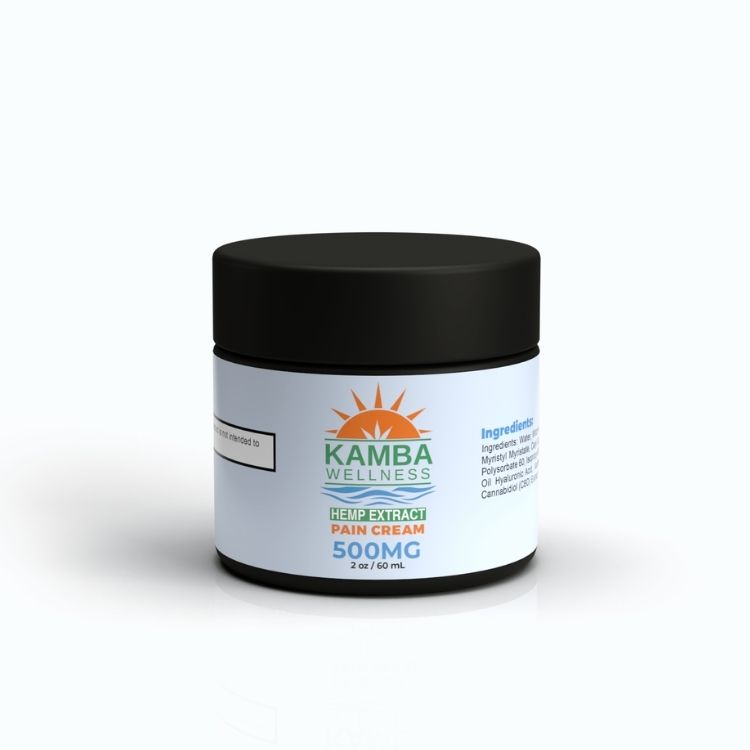 When it comes to pain relief, there are many products out on the market that can address your aches and pains. Cannabidiol, also known as CBD, has been a key ingredient in many new CBD pain creams for relief which have claimed to address soreness, pain and inflammation.
CBD topicals such as CBD pain cream are applied directly to the affected areas. Most topical CBD products are full or broad-spectrum and contain a variety of compounds which support skin health. CBD topicals employ the antioxidant properties of CBD and other cannabinoids to neutralize the harmful effects of free radicals on the skin. They also serve to provide antimicrobial and protective properties of the skin.
CBD topicals come in handy in maintaining a stable concentration of CBD in the body for days due to their slow rate of release method. The CBD penetrates the skin surface and muscles beneath to interact with the endocannabinoids receptors.
One of the best CBD products we carry at Kamba Wellness is our 500mg Pain Relieving CBD Cream. It is made with broad-spectrum CBD along with several minor cannabinoids, yet without a detectable trace of THC, the cannabinoid which has psychoactive effects.
Kamba Wellness Customer Reviews for CBD Pain Cream
"I love the pain cream! It is one of the very few things I can use for chemo pain since I react badly to most pain medicines. I use it in conjunction with the 1000mg CBD oil as well. Love this stuff!" – Lynn L.

"My wife has occasional pain in her joints and has had success using the 250mg pain cream. She definitely recommends it!" Richard G
Kamba Wellness CBD Pain Cream
Kamba Wellness CBD pain cream is formulated with many rich, organic, and natural ingredients such as Organic Jojoba Oil, Peppermint Oil, Organic Coconut Oil, Organic Cocoa Butter, Beeswax, Camphor Oil, Wintergreen Oil, Shea Butter, Eucalyptus Oil, Avocado Oil, Clove Oi, Lavender Oil, Sweet Almond Oil, Vitamin E and many more. Our CBD is extracted from industrial hemp plants in the US.
Some of these ingredients are known for:
Organic Jojoba Oil: applied directly to the skin, it can be used for psoriasis, acne, sunburns, and chapped skin as well as encouraging hair growth.
Peppermint Oil: The entire plant contains menthol which has local anesthetic properties creating a cooling sensation alleviating pain. When digested, it can help with GI discomfort and nausea.
Organic Coconut Oil: Coconut oil may be linked to some potential and great benefits for skin such as reducing inflammation and has been found to possess antimicrobial properties.
Organic Cocoa Butter: Cocoa butter is also an anti-inflammatory much like peppermint and research has shown that it has positive indicators for great skin health, including collagen retention and production
Beeswax: Beeswax has been used by many to address many symptoms such as swelling and relieving pain. Beeswax can also be ingested to possibly help reduce cholesterol.
Camphor Oil: This is a common ingredient in many pain-relieving creams as it is known to have anti-inflammatory properties. It has also been known to address pain, itching and irritation.
Wintergreen Oil: The leaves of wintergreen are sometimes applied directly to the skin as a "wash" for sore muscles, achy joints and lower back pain.
Shea Butter: Many manufactures use shea butter in their cosmetic products because it has been known to smooth or soften dry skin, especially for sensitive skin, but many people do not know that it also contains substances that can reduce skin swelling.
Avocado Oil: It contains Vitamin E and helps absorb other fat-soluble vitamins.
Choosing the Best CBD Pain Cream for You
When choosing a the best CBD Pain Cream, make sure you choose it from a CBD Wellness company that cares about its customers with safe, high-quality CBD oil products.
Kamba Wellness takes great measures to have all of its CBD wellness product tested by an independent third-party lab testing facility for potency and purity ensuring there are no heavy metals, microbial matter and that it has the amount of CBD that is on the label. Kamba Wellness has strategically chosen each ingredient to complement and work well together to bring you maximum results.
Feel free to reach us for more information and to recommend other amazing CBD wellness products for your health & wellness.